A TIMELY COMMENTARY BY CHARLES KRAUTHAMMER - THIS IS A MUST READ!
THE SELECTIVE MODESTY OF BARACK OBAMA
Remember NASA? It once represented to the world the apogee of American scientific and technological achievement. Here is President Obama's vision of NASA's mission, as explained by administrator Charles Bolden:
"One was he wanted me to help re-inspire children to want to get into science and math; he wanted me to expand our international relationships; and third and perhaps foremost, he wanted me to find a way to reach out to the Muslim world and engage much more with dominantly Muslim nations to help them feel good about their historic contribution to science and math and engineering."
Apart from the psychobabble -- farcically turning a space-faring enterprise into a self-esteem enhancer -- what's the sentiment behind this charge? Sure America has put a man on the moon, led the information revolution, won more Nobel Prizes than any other nation by far -- but, on the other hand, a thousand years ago al-Khwarizmi gave us algebra.
Bolden seems quite intent on driving home this message of achievement equivalence -- lauding, for example, Russia's contribution to the space station. Russia? In the 1990s, the Russian space program fell apart, leaving the United States to pick up the slack and the tab for the missing Russian contributions to get the space station built.
For good measure, Bolden added that the United States cannot get to Mars without international assistance. Beside the fact that this is not true, contrast this with the elan and self-confidence of President John Kennedy's 1961 pledge that America would land on the moon within the decade.
There was no finer expression of belief in American exceptionalism than Kennedy's. Obama has a different take. As he said last year in France, "I believe in American exceptionalism, just as I suspect that the Brits believe in British exceptionalism and the Greeks believe in Greek exceptionalism." Which of course means: If we're all exceptional, no one is.
Take human rights. After Obama's April meeting with the president of Kazakhstan, Mike McFaul of the National Security Council reported that Obama actually explained to the leader of that thuggish kleptocracy that we, too, are working on perfecting our own democracy.
Nor is this the only example of an implied moral equivalence that diminishes and devalues America. Assistant Secretary of State Michael Posner reported that in discussions with China about human rights, the U.S. side brought up Arizona's immigration law -- "early and often." As if there is the remotest connection between that and the persecution of dissidents, jailing of opponents and suppression of religion routinely practiced by the Chinese dictatorship.
Nothing new here. In his major addresses, Obama's modesty about his own country has been repeatedly on display as, in one venue after another, he has gratuitously confessed America's alleged failing -- from disrespecting foreigners to having lost its way morally after 9/11.
It's fine to recognize the achievements of others and be non-chauvinistic about one's country. But Obama's modesty is curiously selective. When it comes to himself, modesty is in short supply.
It began with the almost comical self-inflation of his presidential campaign, from the still inexplicable mass rally in Berlin in front of a Prussian victory column to the Greek columns framing him at the Democratic convention. And it carried into his presidency, from his posture of philosopher-king adjudicating between America's sins and the world's to his speeches marked by a spectacularly promiscuous use of the word "I."
Notice, too, how Obama habitually refers to Cabinet members and other high government officials as "my" -- "my secretary of homeland security," "my national security team," "my ambassador." The more normal -- and respectful -- usage is to say "the," as in "the secretary of state." These are, after all, public officials sworn to serve the nation and the Constitution -- not just the man who appointed them.
It's a stylistic detail, but quite revealing of Obama's exalted view of himself. Not surprising, perhaps, in a man whose major achievement before acceding to the presidency was writing two biographies -- both about himself.
Obama is not the first president with a large streak of narcissism. But the others had equally expansive feelings about their country. Obama's modesty about America would be more understandable if he treated himself with the same reserve. What is odd is to have a president so convinced of his own magnificence -- yet not of his own country's.
letters@charleskrauthammer.com
From the Charles Krauthammer archives: The audacity of vanity. And for more on NASA, read Charles Lane's NASA: Mission to Mecca
AND HERE IS ANOTHER BRIGHT IDEA FROM THE ARROGANT BARACK HUSSEIN OBAMA: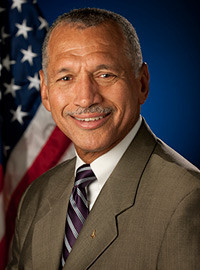 Charles F. Bolden, Jr., head of the U.S. National Aeronautics and Space Administration.
Barack Obama's grand speeches in
Ankara
and
Cairo
as well as his repeated insistence on "
respect
" made Americans very aware that he hopes to win Muslim favor. But we did not know how deeply embedded this impulse has become in U.S. policy until this: "
Obama's new mission for NASA: Reach out to Muslim world
." Byron York of the
Washington Examiner
uncovered an
interview on Al-Jazeera
in which the head of the National Aeronautics and Space Administration, Charles F. Bolden, Jr., explained how Obama charged him to pursue three decidedly non-scientific objectives
One was he wanted me to help re-inspire children to want to get into science and math, he wanted me to expand our international relationships, and third, and perhaps foremost, he wanted me to find a way to reach out to the Muslim world and engage much more with dominantly Muslim nations to help them feel good about their historic contribution to science, math, and engineering.
NASA, he went on, is pursuing "a new beginning of the relationship between the United States and the Muslim world."
York also located a speech by Bolden, who is a retired United States Marine Corps major general and a former NASA astronaut, on June 15 at the American University in Cairo. There, Bolden related that Obama
asked NASA to change…by reaching out to non-traditional partners and strengthening our cooperation in the Middle East, North Africa, Southeast Asia, and in particular in Muslim-majority nations.
Bolden averred that, indeed, "NASA has embraced this charge." In his colorful wording, "NASA is not only a space exploration agency but also an earth improvement agency."
In response to the firestorm these comments have caused, the White House and NASA, according to Fox News, "stood by Bolden's statement that part of his mission is to improve relations with Muslim countries — though NASA backed off the claim that such international diplomacy is Bolden's 'foremost' responsibility."
This unexpected turn of events prompts several reactions.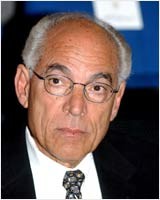 Farouk El-Baz, formerly of Egypt and NASA's lunar missions.
First, it is inordinately patronizing for Americans to make Muslims "feel good" about their medieval contributions to science. This will lead to more resentment than gratitude.
Second, Muslims at present do lag in the sciences and the way to fix this is not condescension from NASA but some deep Muslim introspection. Put differently, accomplished scientists of Muslim origin — including Farouk El-Baz, who is of Egyptian origins and had a key role in NASA's lunar missions — do exist. The problem lies in societies, and include everything from insufficient resources to poor education to the ravages of Islamism.
Third, polls indicate that Obama's effort to win Muslim public opinion has been a failure, with his popularity in majority-Muslim countries hardly better than George W. Bush's. Why continue with these farcical and failed attempts to win good will?
Finally, it's a perversion of American scientific investment to distort a space agency into a feel-good tool of soft diplomacy. Just as soldiers are meant to fight, not carry out social programs, so scientists must work to expand the frontiers of knowledge, not to make select people "feel good."
July 7, 2010 update: Bolden's affirmative action program has already begun, as reported in a NASA news item from June 11, 2010:
The UAE interns at NASA.

NASA is cutting edge for more than just its research development; it also is pushing the envelope for its student internship programs. This week, three United Arab Emirates (UAE) nationals will start a student internship program at NASA's Ames Research Center, Moffett Field, Calif.

Shamma Al Qassim, 19, Hazza Bani Malek, 20 and Hamad Rajab, 21 were selected for a NASA education initiative to work with top scientists on a variety of projects, including the space shuttle and International Space Station, deep space missions, solar system exploration and aeronautics research.

As part of an agreement between NASA and the non-profit Arab Youth Venture Foundation (AYVF), up to 12 UAE students per year for three years may participate in the program. Students are sponsored by Mubadala, a part of the Abu Dhabi government, and will start their 10-week training this week.

According to S. Pete Worden, director of NASA Ames, providing young people an opportunity to learn about space exploration can create a strong friendship between great nations to pursue common dreams. "Under this program, the goodwill generated by students working side by side with our NASA scientists and researchers will serve as a bridge between the USA and UAE, opening the doors for future collaboration in scientific research. I can only imagine what discoveries might be achieved through such cooperation," said Worden
Related Topics: US policyreceive the latest by email: subscribe to daniel pipes' free mailing listThis text may be reposted or forwarded so long as it is presented as an integral whole with complete information provided about its author, date, place of publication, and original URL.
Obama thinks we are too stupid to ever question his
magnificence