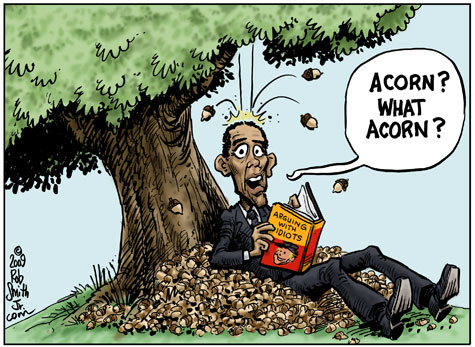 THE RADICAL LIBERALS of A.C.O.R.N., continue to show their hand, their real political leanings and their vile hatred for anything or anyone that believes differently.
BERTHA LEWIS, the C.E.O. of A.C.O.R.N., has really stepped in some real deep and smelly political doo-doo. Please watch the video below - it is so telling!
BARACK HUSSEIN OBAMA has and still has very close ties with the corrupt community organization A.C.O.R.N. for many years.
He likes to pretend that he has had but no longer maintain close association with them.
He is not telling the truth!!!
BARACK HUSSEIN OBAMA SPEECH AT A.C.O.R.N. MEETING
AND HERE WE GO FOLKS! AC.O.R.N and Obama - more proof of their unbelievably close association. Obama is as close to A.C.O.R.N. as he is to the thug leaders of the S.E.I.U. and other labor unions across the country.
VIDEO - OBAMA'S A.C.O.R.N EXPOSED - PART ONE
OBAMA'S A.C.O.R.N. REVEALED - PART TWO
AND JUST WHO and what are the Young Democrat Socialists? They are all radical leftists, liberal fascists and they have associations world-wide.
Please click on the links below to lean about them:
TO SEE A LIST OF OVER 800 RADICAL LIBERAL/FASCIST GROUPS WORLDWIDE,
PLEASE CLICK ON THIS LINK
HERE IS THE BOTTOM LINE - Obama, Pelosi, Reod and countless others in theRadical Democrat Socialist Party (Which used to be the Democrat Party before it was taken over) are Liberal Fascists, Maexists and Maoists of varying degrees
.